FMT IS EFFECTIVE AGAINST PARKINSON'S DISEASE AND RESISTANT BACTERIA [2021.5.31].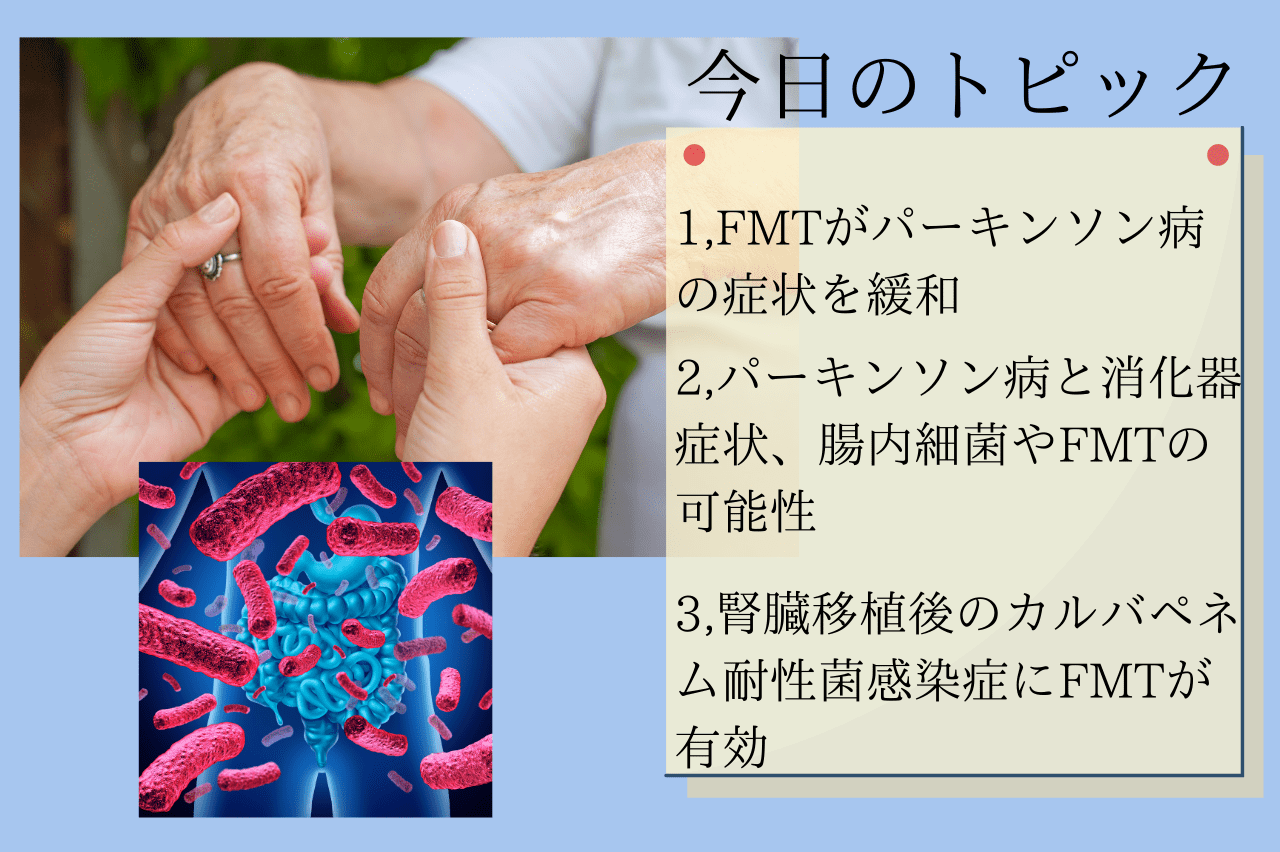 FMT RELIEVES SYMPTOMS OF PARKINSON'S DISEASE
(Original)
Evaluation of fecal microbiota transplantation in Parkinson's disease patients with constipation | Microbial Cell Factories | Full Text
Patients with Parkinson's disease suffer from conditions such as constipation and motor and non-motor symptoms. ( (Pathophysiology of Parkinson's Disease: Motor and Non -Motor Symptoms))
A research team from Nanjing Medical University in China, Chun-li Zhou, and colleagues conducted a study in which 11 Parkinson's disease patients with constipation symptoms underwent FMT.
Results showed that motor and non-motor symptoms, typical symptoms of Parkinson's disease, were reduced, and SIBO symptoms were also improved.
It also showed a change in the face of intestinal bacteria, with an increase in Blautia and Prevotella, but a significant decrease in Bacteroidetes.
THIS STUDY NOT ONLY SHOWED A RELATIONSHIP BETWEEN GUT BACTERIA AND PARKINSON'S DISEASE, BUT ALSO INDICATED THAT FMT MAY SHED LIGHT ON THE TREATMENT OF PARKINSON'S DISEASE.
(Reference article in English)
Fecal Transplants Relieve Parkinson's Constipation, Motor Symptoms
PARKINSON'S DISEASE AND GASTROINTESTINAL SYMPTOMS, POSSIBLE INTESTINAL BACTERIA AND FMT
(original)Gastrointestinal dysfunction in Parkinson's disease: molecular pathology and implications of gut microbiome, probiotics, and fecal microbiota transplantation | SpringerLink
Vinod Metta and his team at King's College London, UK, are exploring gut bacteria-based methods, including FMT, as an approach to Parkinson's disease.
The presence of constipation and a biomarker called alpha-synuclein are used to diagnose Parkinson's disease in its early stages.
The research team hypothesized that a disturbed intestinal environment may cause oxidative stress and inflammation of the mucosa, which induces α-synuclein.
They then proposed a new aspect of the brain-gut correlation, in which the deterioration of the intestinal environment causes leaky gut and even affects the nervous system.
Intestinal flora transplantation is one of the ways to improve the intestinal environment.
FMT EFFECTIVE IN CARBAPENEM-RESISTANT BACTERIAL INFECTIONS AFTER KIDNEY TRANSPLANTATION
After an organ transplant, antibiotics are inevitably used.
This is important to prevent infection and to avoid endangering life.
However, it is possible for bacteria resistant to antibiotics to proliferate and become infectious in their own right.
This report describes the case of a 37-year-old woman.
She had received a kidney transplant, but a month after the operation she contracted Klebsiella pneumoniae infection, which is resistant to carbapenem antibiotics.
THE PATIENT UNDERWENT FMT, AND A WEEK LATER HE WAS NEGATIVE FOR CARBAPENEM-RESISTANT KLEBSIELLA, AND 17 DAYS LATER HE HAD COMPLETELY RECOVERED.
The diversity of her intestinal bacteria also recovered rapidly, from one week, to three weeks, to two months.
This is a very valuable report, although it is based on only one patient.
The effectiveness of FMT in diseases where only antibiotic-resistant bacteria can thrive has been shown worldwide by Clostridium difficile infections.
THIS REPORT HAS QUICKLY OPENED UP THE POSSIBILITY OF USING FMT FOR THE TREATMENT OF OTHER RESISTANT BACTERIA.