Gastrointestinal symptoms and changes in intestinal microbiota as affected by intestinal flora transplantation in autism spectrum [seminar information available].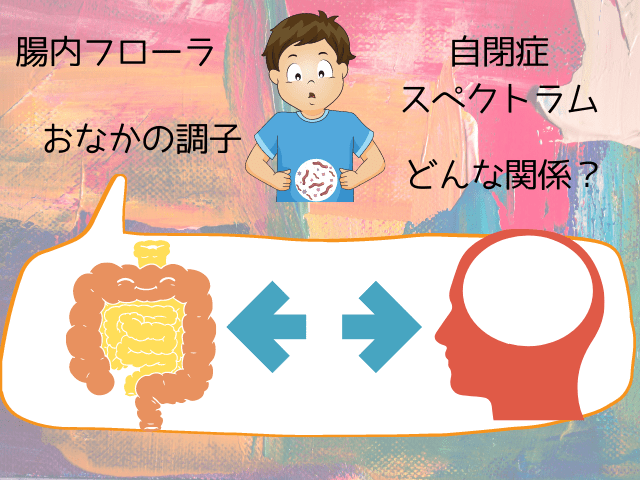 BRAIN-GUT CORRELATION MAY BE AN OVERUSED TERM. MANY MAY BE SURPRISED TO HEAR THAT GUT BACTERIA AND AUTISM SPECTRUM DISORDER (ASD) MAY BE RELATED.
In fact, this "may" has been almost certainly confirmed by researchers around the world.((Autism Spectrum Disorder and the Gut Microbiota in Children: A Systematic Review – FullText – Annals of Nutrition and Metabolism 2020, Vol. 76, No. 1 – Karger Publishers))((Alteration of Gut Microbiota in Autism Spectrum Disorder: An Overview))((The gut microbiota regulates autism-like behavior by mediating vitamin B 6 homeostasis in EphB6-deficient mice | Microbiome | Full Text))
Autism spectrum disorders and Asperger's syndrome are considered "characteristics" rather than "diseases". In other words, it is widely recognized that they are not to be treated.
Behaviors that may be inconvenient for social life are gradually corrected through patient education by the parents, and antiepileptic drugs or anti-anxiety medications may be used if they interfere with social life.
However, isn't it necessary to "accept and affirm that everything is good about the child"?
Some people are uncomfortable when such developmental disorders are discussed in the context of a "cure.

For parents and guardians, as well as for those who themselves have been diagnosed with a developmental disability, it may feel as if they are losing their "child" and "self," or worse, that they are in denial.
The reason for this is that the current state of affairs is bad, and the mind is motivated to restore it to a good state of affairs.
But as long as it is difficult to live in this narrow-minded society with a developmental disability, it is probably not such a bad thing to hope to alleviate some of that suffering.
Later, when I am no longer suffering, I can laugh and say, "That treatment has undermined my genius and made me a mediocre human being.
INTESTINAL FLORA TRANSPLANTATION (STOOL TRANSPLANTATION) AND ASD
First of all, ASD stands for Autism Spectrum Disorders, and in Japan it is often used to refer to autism spectrum disorders.
Overseas, ASD is often lumped together with Asperger's syndrome and pervasive developmental disorder, and the term ASD is also used in papers published overseas.
As the relationship between intestinal bacteria and ASD becomes clearer, there is a trend to confirm the effectiveness of intestinal flora transplantation for ASD.
The two links below are to papers on clinical trials of intestinal flora transplantation in children with ASD conducted overseas with two years of follow-up, with easy-to-understand explanations in Japanese.
AUTISM SPECTRUM (ASD) AND INTESTINAL FLORA TRANSPLANTATION SEEM TO BE A GOOD MATCH. 【DISCUSSION OF TARGET DISORDERS AND METHODS】
【[AFTER ASD】A DISCUSSION OF PROTOCOLS AND TIME DIFFERENCES FOR IMPROVEMENT IN STOOL TRANSPLANTATION.
This does not seem to have resulted in the loss of the children's individuality; rather, it seems to have reduced their suffering and the emotional and physical burden on their parents.
This time, the Japanese version of this project is about to be done by the General Intestinal Flora Transplantation Clinical Research Foundation.
Although we do not have the financial means to do so as this paper, in which the University of Arizona and other prestigious universities are participating, we would like to make this project as kind as this research team.